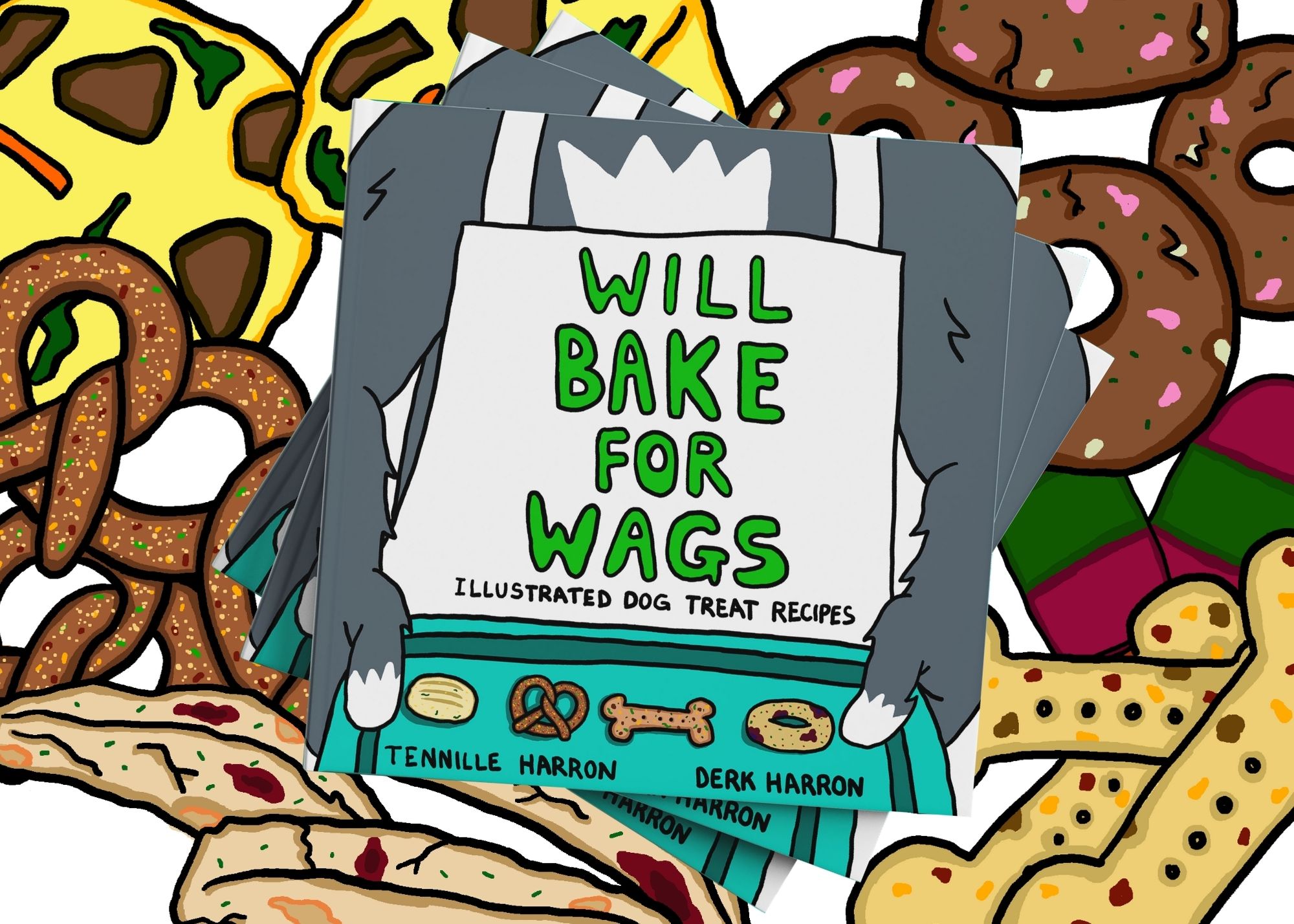 paperback >> https://www.amazon.com/dp/1736018515
kindle >> https://www.amazon.com/dp/B08MYBD3P7
Looking for the perfect treat to start your dog's tail wagging?

Make it yourself!
"Will Bake for Wags" is what you need to make your favorite furry friend the most, delicious treats. You'll have their tail wag in anticipation with a variety of recipes.
Whether it's beef, chicken, cheese, fruit, or veggies that get your dog excited, this recipe book will help you create treats your dog will crave over and over.
Sections include what foods to avoid, why bake for your dog, and what you need in your kitchen.
Every section includes a wide treat selection from frozen treats, biscuits, jerky, biscotti, and pupcakes.
Keep your canine friend's tail wagging with their all time favorite treats.
About Us
Tennille Harron is a dog lover, author of Will Bake for Wags, and founder of www.doggydessertchef.com. Tennille did not set out to be a doggy chef, but when her first dog developed stomach issues, she decided to take matters into her own hands. With the assistance of her furry sidekicks, co-chefs Rose and Pee Wee, who are always willing to test out a new recipe, Tennille has been creating treats for puppy pals all over the globe. Tennille strongly believes the best way to show our canine families how much we love them is by keeping them healthy, happy, and strong, and that motto shows in every one of her creations. Her life has really gone to the dogs, and she could not be happier about it!
Derk Harron started drawing before he could walk. He illustrated the dog treat cook book, "Will Bake For Wags," and has been doing art for doggydessertchef.com for years. Derk was the cartoonist of his high school and college newspaper which led him to get an associate degree in Comic Sequential Art. When he's not doing commissions or drawing comics of his two cute dogs, Rose and Pee Wee, he's posting his art on derkart.com. Art will always be apart of Derk's life and he will continue to visually capture his creative endeavors.
Cover
Photos of inside
Pages and Recipes
Where you can find me
https://www.facebook.com/doggydessertchef
https://www.pinterest.com/dogdessertchef/
https://www.instagram.com/doggydessertchef/
contact [at] doggydessertchef [dot] com