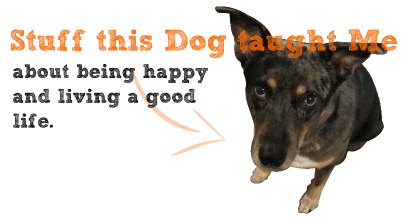 One of the most common questions I get at the dog park is:
What kind of  dog is that?
With PeeWee I can answer that with confidence, he's a Schnauzer/Poodle mix, a Schnoodle. Big B on the other hand .. is a mutt. A short haired, big boned, heavy shedding, mixed breed mutt.

The Veterinarian lists him as a Australian Cattle Dog, specifically a Blue Heeler, and I certainly see the resemblance. He's also been know to herd a small child or two.
But other then the Vets (very educated) guess I have no idea what else is mixed into the old guy.

I did have a  woman ask the kiddo that very question and he had much better response then me, his response: a Ninja.

She asked him to explain and he told her that Big B fights all the nasty things that go bump in the night while making it look as if all he does is sleep all day, he keeps everyone safe and sound with out moving a muscle (a clear display of Ninja skills and abilities.)

She laughed and agreed that he must be a Ninja, and a very skilled one at that.



Even now my Blue Ninja Heeler mix is protecting the house by creating a deadly tripping hazard for anyone who dares enter, a common Ninja tactic.
What's your pup mixed with? Do you have a Ninja Dog too?

Edit: a friend suggested it try a dog DNA kit to find out how much Ninja B has in him, as well as anything else .. has anyone else discovered their doggies DNA?