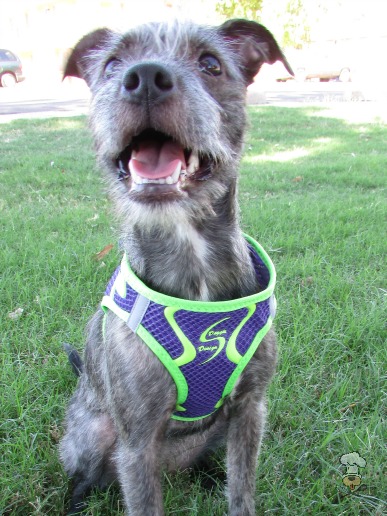 Disclosure: Krazy For Pets gave me this harness to review.
Rose was adopted based on deception.
She had just been spayed that morning so she was still very groggy from the sedation. She was also several pounds under weight so when I held this tiny docile pup in my lap, stroking her soft ears, I knew I was picking the perfect dog.
Then, the medication wore off. They had forgotten to mention that she was insane.
I mean .. uh .. I'd forgotten what it was like to have a puppy again.
Her energy is endless .. she chews and runs, growls and chews, eats and runs, sleeps and chews. As I'm sure you all know, it is nonstop.
Which, actually, makes her the perfect dog for us because it just so happens that I have a kid who likes to run, a lot, and for really long distances and what better cross country running partner is there than a gangly puppy with endless energy!
But you can't run for miles with a regular harness, especially when using a running leash.
You need something that holds tight to the body, so there wont be any rubbing or irritation, and helps maintain hands-free control along with a choke-free design, because running a couple miles is hard enough without something putting pressure on your throat.
With it's added reflectors (safety first!) this
Doggy Design Sport Harness from Krazy for Pets
gives me everything I need so a Boy and his Dog can continue to run many, many miles together.