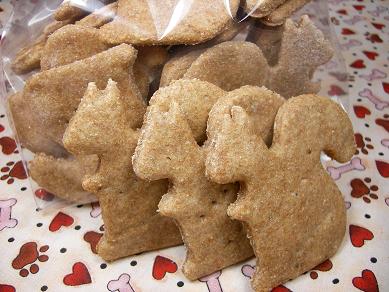 We have a new resident in our tree out front. It's the cutest squirrel, he spends all day scampering around, chasing off the noisy birds and just being cute .. and Pee Wee hates him.
For some reason he despises this squirrel and now spends hours at a time barking at him through the window or chasing him once he's outside.
Since he has no hope of catching the squirrel (thankfully) I decided this was a perfect chance to use my squirrel cookie cutter. Now he can chomp on his nemisis but  insted of being full of … well … squirrel these are full of honey and banana, doesn't that sound much yummier!


honey banana squirrels dog treat recipe
Ingredients
2

Bananas

2

Tablespoons

Honey

2 1/2

cups

Whole Wheat Flour

1/4

cup

Milk
Instructions
Preheat oven to 350 degrees fahrenheit and line a baking sheet with parchment paper or a silicone baking mat.

Mash bananas and then mix with honey.

Once combined add milk and whole wheat flour and knead until all ingredients are well mixed.

Roll 1/4 inch thick and cut with cookie cutter.Bake for 10 to 15 minutes or until edges start to brown.

Cool and refrigerate.

Made 3 dozen squirrels.