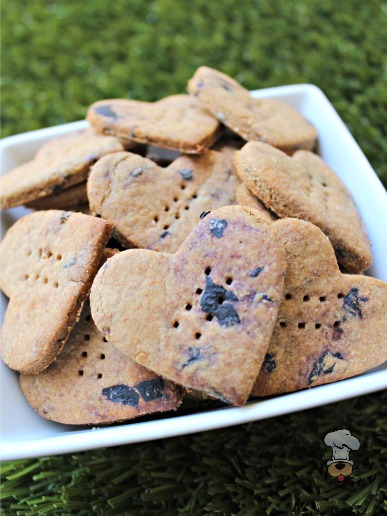 If you're a dog owner, you know that finding healthy and delicious treats for your furry friend can sometimes be a challenge. But fear not! I've got a fantastic recipe for peanut butter blueberry dog treats that your pup is sure to love! These cookies are not only packed with the goodness of peanut butter and blueberries but also shaped into cute little shapes using cookie cutters.
Let's get started!
To make these delightful treats, you'll need a few simple ingredients. First, gather some peanut butter – make sure it's the all-natural kind without any added sugars or xylitol, as these can be harmful to dogs. Next, grab some fresh blueberries – these little blue gems are not only tasty but also full of antioxidants that are great for your pup's overall health. And of course, you'll need some honey, cinnamon and spelt flour to bring everything together.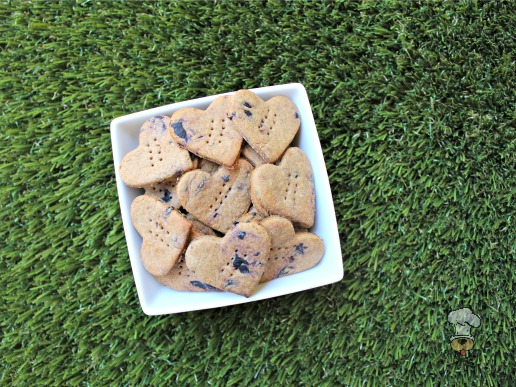 Now, let's get down to business and whip up these scrumptious treats! Start by preheating your oven to 350 degrees Fahrenheit. In a mixing bowl, combine your ingredients and mix everything together until you have a dough-like consistency. If the dough is too sticky, add a little more flour. If it's too dry, add a splash of water.
Once the dough is ready, dust your work surface with some flour and roll it out to about 1/4 inch thickness. Now comes the fun part – grab your favorite cookie cutter and start cutting out adorable shapes. Whether it's bones, hearts, or even little doggy faces, let your creativity shine! Place the cut-out treats onto prepared baking sheet and pop them into the oven for about 15-20 minutes, or until they are golden brown and crispy.
peanut butter blueberry dog treat recipe
Ingredients
1/2

cup

Blueberries

pureed until pour-able

1/2

cup

Peanut Butter

2

tablespoons

Honey

1/4

teaspoon

Cinnamon

1

cup

Spelt Flour
Instructions
Preheat oven to 350 degrees Fahrenheit and line a baking sheet with parchment paper or a silicone baking mat.

In a large bowl mix all ingredients one at a time, kneading well after each addition.

Knead dough into ball and roll onto a floured surface 1/4 inch thick.

Cut with the cookie cutter of your choice, poke each biscuit with a fork to prevent bubbles.

Place on your prepared cookie sheet and bake for 10 to 15 minutes or until lightly browned at the edges. Cool and refrigerate.

Makes 2 to 3 dozen hearts.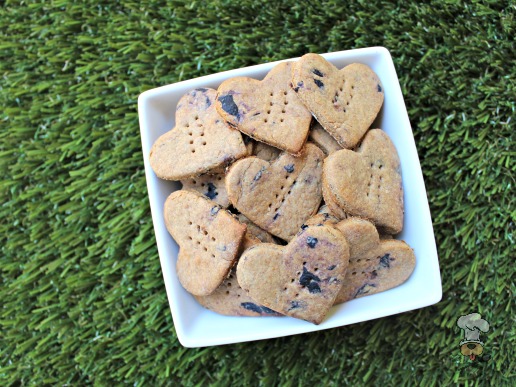 While your treats are baking, the enticing aroma of peanut butter and blueberry will fill your home, making your pup's tail wag in anticipation. Once the treats are done, let them cool completely before serving them to your furry friend. Trust me, the wait will be worth it! Your dog will love sinking their teeth into these deliciously healthy treats, and you'll feel great knowing that you've made something homemade and nutritious for them.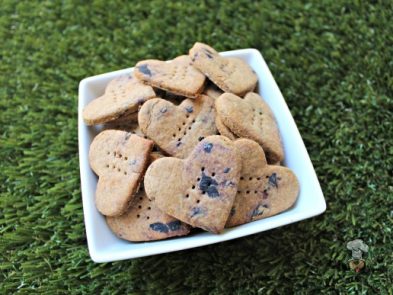 Why settle for store-bought dog treats filled with artificial ingredients when you can whip up these homemade goodies in no time? Your furry friend will thank you for this peanut butter blueberry dog treat recipe, and you'll be rewarded with tail wags and happy licks!