Spot Farms sent me some grain free pork recipe dog food and dog treats to inspire and use in this recipe.
sweet potato spinach dog treat recipe
Ingredients
1

cup

mashed Sweet Potato

1/4

cup

chopped Spinach Leaves

2

tablespoons

grated Parmesan Cheese

1/2

tablespoon

dried Parsley

1/2

cup

Spot Farms Grain Free Pork Recipe Dog Food*
Instructions
Preheat oven to 350 degrees fahrenheit and line a baking sheet with parchment paper or a silicone baking mat.

Mix all ingredients in a large bowl until well combined.

Knead dough into ball and roll onto a floured surface 1/4 inch thick.

Cut with the cookie cutter of your choice and place on your prepared baking sheet.

Bake for 10 to 15 minutes until the cheese bubbles and browns slightly. Cool and refrigerate.

Makes 4 to 5 dozen.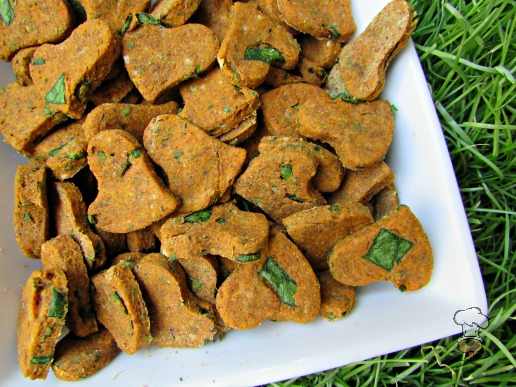 * Don't have any Spot Farms Grain Free Pork Recipe Dog Food? Go grab some! If you can't get to a store right away you can use the dry dog food you have on hand. Just place the dried food in a food processor and grind it to a flour-like consistency and use that instead.