I can't contain my excitement about this amazing air-fried rosemary chicken hearts dog treat recipe! Not only is it a delicious and nutritious treat for our furry friends, but it also incorporates the wonderful flavors of rosemary and chicken. Who wouldn't want their pup to enjoy such a delectable treat?
To make these treats, you'll need some fresh chicken hearts, rosemary, thyme, oil and an air fryer. The combination of ingredients creates a tantalizing aroma that will have your dog's tail wagging in anticipation. Plus, the air fryer ensures that the treats are cooked to perfection, with a crispy exterior and a juicy center.
First, gather your fresh chicken hearts and clean them thoroughly. Pat them dry with a paper towel and set them aside. Next, toss the rosemary and thyme with the chicken hearts. The fragrant herb infuses the meat with a delightful flavor that dogs absolutely love.
Now comes the fun part – using the air fryer! Preheat your air fryer to the desired temperature, and then place the seasoned chicken hearts inside the basket. Cook for a 10 to 15 minutes until they are golden brown and cooked through. The air fryer ensures that the treats are healthier than traditional frying methods, as they require little to no oil.
Air-Fried Rosemary Chicken Hearts Dog Treat Recipe
Ingredients
1

pound

chicken hearts

1/4

teaspoon

dried thyme

1

teaspoon

dried rosemary

1

tablespoon

sunflower oil
Instructions
Preheat Ninja Foodie at 390 degrees Fahrenheit for five minutes.

Toss the hearts, thyme and rosemary in a large bowl until the hearts are completely coated.

Pour sunflower oil into preheated air fryer.

Evenly spread the hearts out on the cook and crisp plate.

Cook for 10 to 15 minutes, rotating every five minutes..

Allow to cool before serving.
Once they're done, let them cool for a few minutes before serving them to your furry friend. Trust me, they won't be able to resist the delicious aroma wafting from these homemade treats. And the best part is that you know exactly what ingredients are in them – no preservatives or artificial flavors.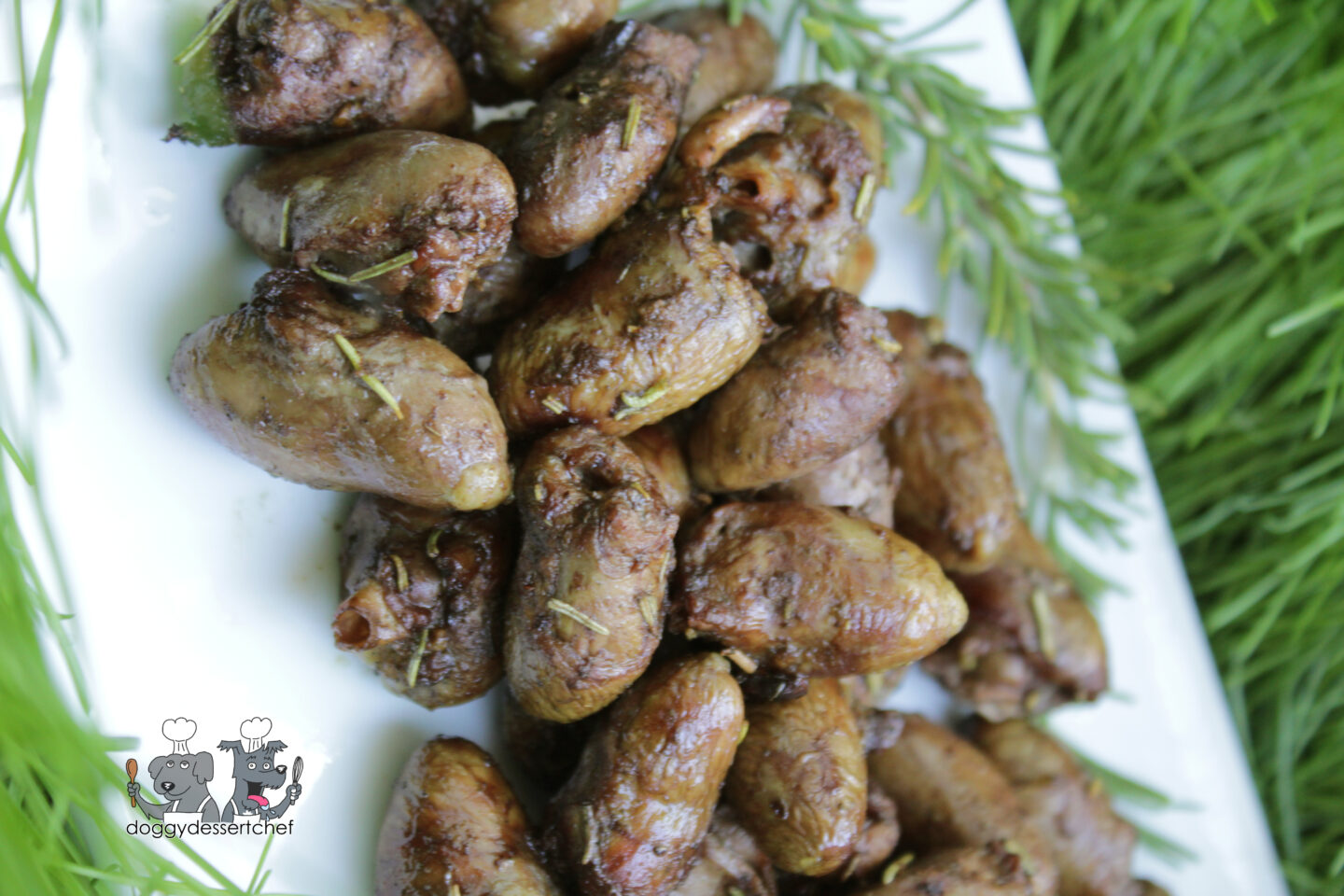 So there you have it – an easy and delicious recipe for Air-Fried Rosemary Chicken Hearts Dog Treats that will have your pup jumping for joy. Not only are these treats a healthier alternative to store-bought options, but they are also made with love and care. Give them a try, and I guarantee your four-legged companion will be forever grateful.