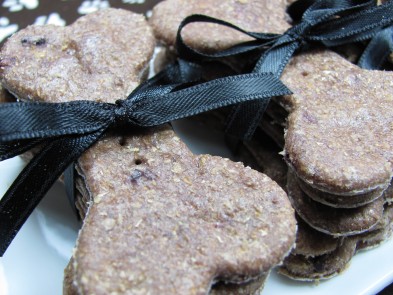 While these chicken and blackberry treats cooked my house was filled with the most wonderful scent of rosemary that had both me and the dogs drooling.
rosemary chicken with blackberries dog treat recipe
Ingredients
1

cup

shredded Chicken

1

cup

Blackberries

2

Eggs

1/4

cup

Milk

1/2

tablespoon

dried Rosemary

2 3/4

cups

Whole Wheat Flour
Instructions
Preheat oven to 350 degrees fahrenheit.

In a  bowl mix all ingredients one at a time, stirring well after each addition.

Knead dough into ball and roll onto a heavly floured surface (the dough is very elastic and sticky) 1/4 inch thick and cut with you cookie cutter of choice.

Brush tops of biscuits with egg white for a shiny surface and prick with a fork to prevent bubbles. Place on ungreased cookie sheet and bake for 15 to 20 minutes or until browned at the edges.

Cool and refrigerate.

Makes 2 to 3 dozen bones.