Who doesn't love the simple and easy gift? This bacon bite jar recipe only uses four ingredients and any dog would be happy to receive something so tasty.

Ingredients for a 16 ounce (1 pint) sized glass jar
1 cup Whole Wheat Flour
1/2 cup Oats
1/2 cup Parmesan Cheese
1/4 cup Bacon Bits

Directions
Layer  ingredients in order listed above, pressing firmly after each layer. Seal with lid and decorate.



Recipe to attach: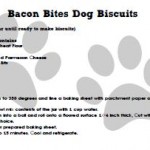 1. Preheat oven to 350 degrees fahrenheit and line a baking sheet with parchment paper or a silicone baking mat.
2. In a large bowl mix contents of jar with 1 cup water.
3. Knead dough into ball and roll onto a floured surface 1/4 inch thick. Cut with the cookie cutter of your choice.
4. Place on your prepared baking sheet.
5. Bake for 10 to 15 minutes. Cool and refrigerate.



Check out these other droolicious recipes