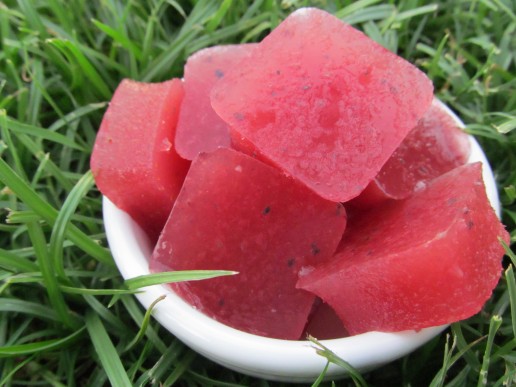 My friend Sadie from tailsarewagging sent me an e-mail about a post she had written. It's about ME (Megaesophagus) a condition that causes the esophagus (of a dog, cat or person) to not function properly and can lead to food being regurgitated, inhaled into the lungs or left to decay in the esophagus. (Yikes!)
I'd never heard of this condition and it was fascinating to learn about, check out her post for a lot of good information and the dog that inspired her.
Of course, these special dogs need special food and she asked if I could make a recipe for a tasty treat that a dog with ME could enjoy.
Hopefully this fruity version of hydrating knox blox will help make a dog with ME happy and my dogs sure loved them too.
watermelon blueberry knox blox dog treat recipe
Ingredients
approximately 1/2 of a seedless Watermelon

you may need more depending on how large your watermelon is.

1

cup

Blueberries

1

tablespoon

Honey

4

envelopes Unflavored Knox Gelatin
Instructions
Puree and strain watermelon and blueberries. You need a total of four cups of juice.

Chill and pour one cup of juice in a large bowl, boil the remaining three cups and honey in a sauce pan.

Sprinkle the four packets of unflavored gelatin over the juice in the bowl, let stand 1 minute.

Add three cups juice heated to boiling and stir until the gelatin in completely dissolved (about five minutes.)

Pour into a 9" x 13" (quarter sheet) cake pan and allow to chill for at least 3 hours.

Cut into sizes appropriate to your dog and serve.