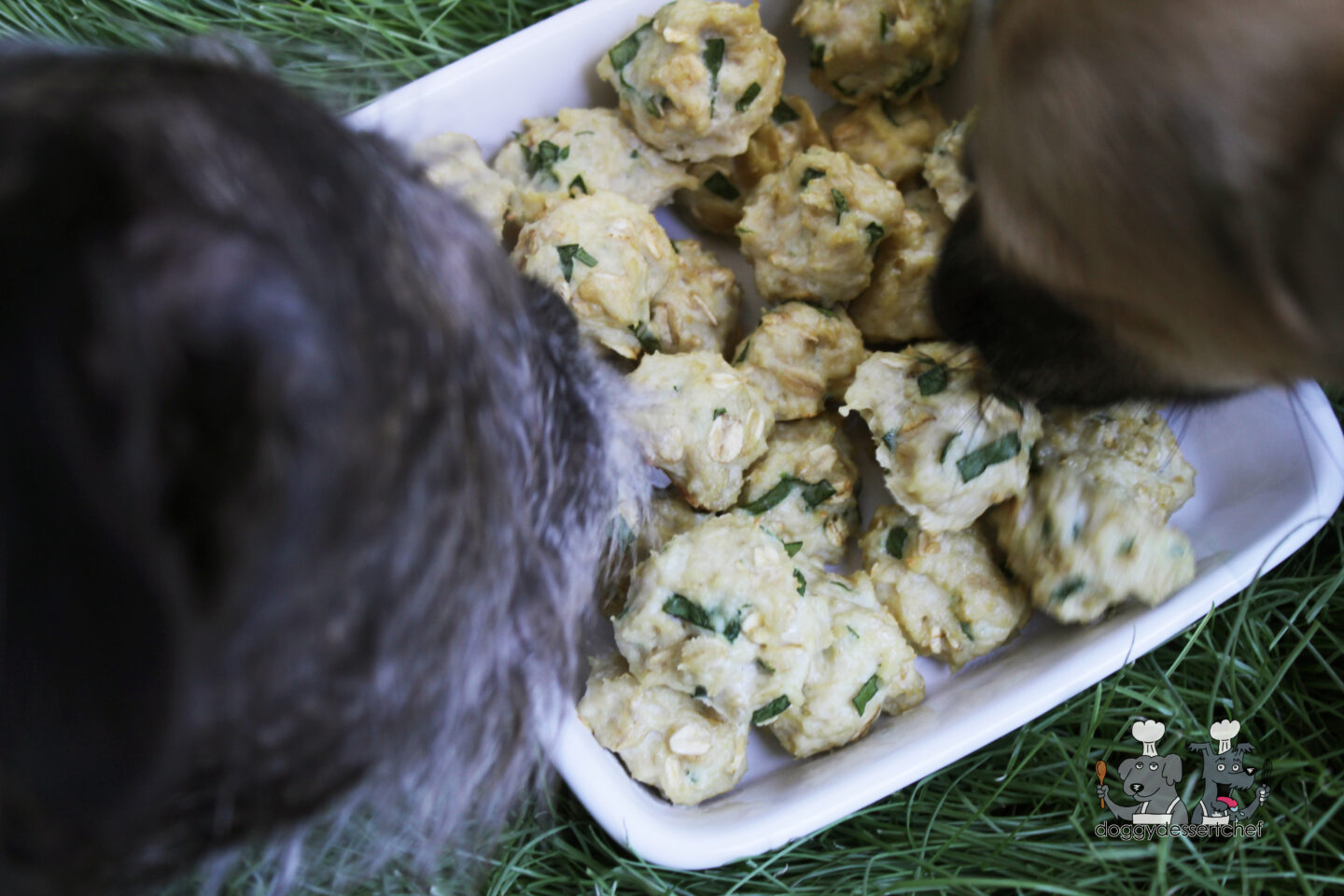 Indulge your furry best friend with a mouthwatering treat! Our chicken spinach meatball dog treat recipe is sure to have tails wagging and tongues drooling. Made with lean chicken, wholesome spinach, and a touch of love, these savory meatballs are the perfect way to show your pup some extra affection.
To make these mouthwatering meatballs, you will need a few simple ingredients. First, gather some ground chicken, fresh spinach, parmesan cheese, oats, parsley and an egg. The chicken is a great source of lean protein, while the spinach adds a boost of vitamins.
Next, preheat your oven to 400 degrees Fahrenheit and line a baking sheet with foil. This will ensure that the meatballs cook evenly and won't stick to the pan. Now it's time to get your hands dirty! In a large bowl, combine the ground chicken, chopped spinach, parmesan cheese, oats, parsley and egg. Mix everything together until well combined.
Once the mixture is ready, it's time to roll your meatballs. Use your hands to shape the mixture into small, bite-sized balls. Place them on the prepared baking sheet, making sure to leave a bit of space between each one. Pop them into the oven and let them bake for about 15 to 20 minutes or until there is no pink in the center. Make sure they are completely cooled before feeding to your pup.
Your furry friend will be wagging their tail in excitement as they devour these tasty treats. Not only will they love the flavor, but they will also benefit from the nutritious ingredients. These Chicken Spinach Meatballs are a healthy alternative to store-bought treats that are often filled with artificial ingredients and preservatives.
Chicken Spinach Meatballs Dog Treat Recipe
Ingredients
1

pound

ground chicken

1

egg

1/4

cup

chopped spinach

1/4

cup

grated parmesan cheese

1

teaspoon

dried parsley

1/2

cup

oats
Instructions
Preheat oven to 400 degrees Fahrenheit and line a baking sheet with foil.

In a large bowl mix all ingredients until well combined.

Shape into meatballs between 1/2 to 1 inches in diameter.

Place on foil lined baking sheet, and bake for 15 to 20 minutes until no longer pink in center.

Allow to cool before serving.
Treat your dog to something special today. Whip up a batch of these Chicken Spinach Meatballs and watch their eyes light up with joy. They deserve only the best, and this homemade recipe is sure to make their tail wag with happiness!