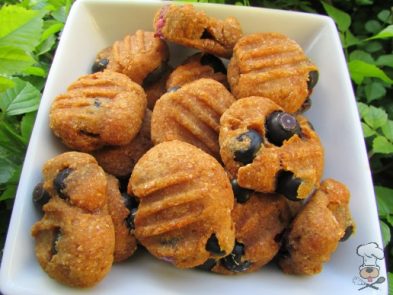 As pet parents, we all want to ensure that our furry companions are happy and healthy. One way to do that is by providing them with nutritious and delicious treats. And what could be better than homemade treats made with natural ingredients? If you're looking for a tasty and wholesome snack for your dog, try making these blueberry and pumpkin dog treats.
Blueberries are a great source of antioxidants and fiber, while pumpkin is rich in vitamins and minerals. These ingredients not only taste great but also offer numerous health benefits for your furry friend. To make these treats, you'll need just a few simple ingredients, including spelt flour, honey and cinnamon.
blueberry pumpkin dog treat recipe
Ingredients
1/2

cup

Blueberries

1/2

cup

Pumpkin Puree

2

tablespoons

Honey

1

teaspoon

Cinnamon

1

cup

Spelt Flour
Instructions
Preheat oven to 350 degrees Fahrenheit and line a baking sheet with parchment paper or a silicone baking mat.

In a large bowl mix all ingredients one at a time, kneading well after each addition.

Once dough is well mixed roll dough into 1/2 inch balls and place them a inch apart onto the prepared baking sheet. Press down on the tops with a fork to flatten.

Bake for 10 to 15 minutes. Cool and refrigerate.

Makes 2 to 3 dozen rounds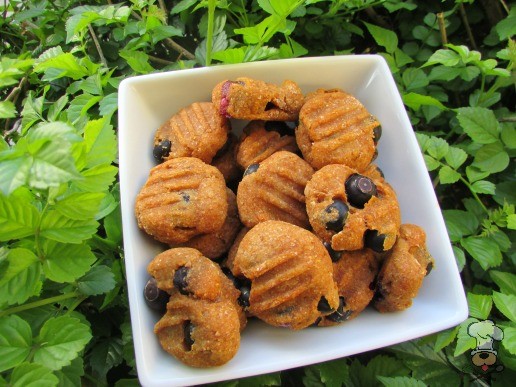 Your furry friend will definitely love these tasty and healthy treats. Plus, making them at home ensures that you know exactly what's going into them, which can give you peace of mind. These blueberry and pumpkin dog treats are perfect for training rewards or just as a tasty snack between meals. Give them a try and watch your pup's tail wag with delight!